Monday, June 21st, 2010
Leave a Comment »
SALOME AT SUNRISE by releases today from Carina Press!
It's not nice to piss off Mother Nature…
Bryton Haruk sets out on a suicide mission to stop the bloodthirsty Skullmen from terrorizing the war-weary Land of Eldwyn. Consumed by guilt over the death of his wife, Bryton seeks revenge and reunion in the afterlife with his lost love. His purpose is determined, his bravery unmatched, until the queen casts a spell to save Bryton from himself.
Salome is that spell. A bird-shifter, she can harness the earth's breeze and take the form of a beautiful, innocent woman. Her challenge is to harness Bryton's pain and guide him to peace. She entrances and irritates him, tempting Bryton from his mission. Even as he gives in to the passion between them, Bryton insists on mounting a solo attack on the brigands' compound, and Salome fears her love won't be enough to save him…
Salome at Sunrise from Inez Kelley and Carina Press.
Seize the day.
Someone is about to get some Spice in his life.
Spice has nothing but the clothes on her back when she returns to Chicago. She's looking for a better life, and that means reuniting with her estranged twin sister, Sugar. She isn't thrilled to find out Sugar's boyfriend is a vampire. But then she meets Eric, once the bottle-cap-glasses wearing nerd next door – now grown into the kind of man she'd love to snuggle with on this cold winter night…and he's offered her his room in Sugar's house.
Eric can't believe Spice has returned. He'd given up hope of ever seeing her again, let alone having her stare at him as if he's sex on a stick. But now that all of his fantasies for them are coming true, reality rears her ugly head and Eric must tell Spice his intimate secret; he's actually an Alpha werewolf looking for his mate and he thinks he's found her.
Monday, June 14th, 2010
Leave a Comment »
Hi everyone!
I have a contest to win a copy of "Kiss of the Rose" and a special extra prize running on Writerspace this month, so please enter!
I will also be running a contest on this blog nearer the publication date and two more months of contests on Writerspace and elsewhere so keep on trying! LOL
Kate x
Thursday, June 10th, 2010
2 Comments »
Once upon a time I wrote a longish short story intended for an e-publisher and they turned it down. I liked this story so I kept in on my computer and occasionally brought it out, brushed it off, still liked it and still kept it.
Recently there has been a lot of talk about self-publishing on some of the loops I frequent, so I decided to try and see if I could publish this little short erotic historical tale. With a lot of help from Gwen Hayes and a beautiful cover made by Dara England, I managed it!
And here it is
When Lady Arabella's errant husband returns after a two-year absence that began just after the consummation of their marriage, she's still furious with him. Will past hurts finally be explained, and will Lord James be shocked to discover that Arabella has made the best of the situation with the help of his best friend, Tom? Or will Lord James turn the tables, reveal all, and win their sexual game for an unconventional happy ever after?
Please note. This book contains m/f/m sexual interaction and mild infidelity.

you can find it for 0.99c at kindle and smashwords and eventually on other devices too
Tuesday, June 1st, 2010
Leave a Comment »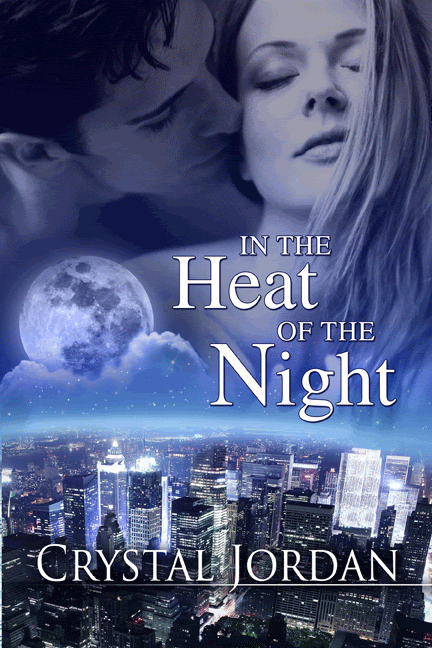 Crystal Jordan's In the Heat of the Night series from Samhain has been combined into a single print volume and releases today!
When wildness rules the night, giving in is the only choice.

Total Eclipse of the Heart
Werewolf law demands that once mated, werewolves know no other lover. Then Lena walks into Rachel's world, turning it inside out. Her mate may not like it, but once scented, nothing will stop Rachel from claiming what's hers…
Big Girls Don't Die
Six months ago, Andre turned Cynthiana into a vampire, insisting it was meant to be. Cyn doesn't call this a healthy relationship. When she ends up stranded on Valentine's Day, he grabs his chance to convince her they can live happily ever and forever after.
It's Raining Men
Candy has always known Michael is her mate. The catch? He's gay. When she meets his lover, she's sure her werewolf instincts are faulty. Mates with not one, but two gay men? She must have a screw loose. Little does she know both men are about to rock her world.
Crazy Little Thing Called Love
Anyone who tries to get in Pixie's way gets the business end of her Fae magic, especially pushy werewolf males. Luckily, Malcon likes her that way. Their uncomplicated fling, for him, is anything but—she's his mate. He just has to convince her that love won't clip her wings.
Warning: Naughty love in every imaginable flavor: boy on boy, girl on girl, boy on girl, boy on girl on boy, girl on boy on girl. Werewolves, vampires, sirens, and Fae doing all the dirty deeds from spanking to anal to public masturbation. Options are limitless, so pick your poison wisely!
Places to buy it: Amazon.com | Barnes & Noble | Borders | Books-A-Million | Indiebound | Powell's Books
Wednesday, May 26th, 2010
2 Comments »
Such a pleasure when a writer (and friend) one knows and loves has their first book out! Especially when it comes out with my first-ever publisher too:) Big congrats to Voirey Linger and many sales! I loved this story
Here's the blurb
For two hundred years, Dominicus has lived in isolation, sentenced to take human souls to hell. But this night's victim is unlike all the others. She tempts him. One kiss and she comes apart in his arms. One taste, and he can't walk away.
But Maggie isn't the only temptation he faces. Dominicus fights an attraction to Renatus, his best friend through the eons and a male with whom sex is forbidden. With her, he risks Hell, with him, losing the only piece of Heaven he has left.
Maggie cannot begin to understand what Dominicus has done. Demons covet her soul and Lucifer won't give up his prize. In claiming her, he's not only compounded his sin, he's sparked a war between Heaven and Hell. Angels battle demons, and Dominicus must make a choice. Does he deliver to Lucifer the human whose soul calls to him and ensure his salvation, or save her and risk eternal damnation?
Reader Advisory: Contains passionate lip-locks between two male angels, hot enough to singe your feathers off.
and, more importantly, here's the buy link
Kate x
Saturday, May 22nd, 2010
3 Comments »
I get asked this question a lot, because everyone expected me to write about one of the twins next, preferably Christian, I think
(And I didn't do that either.)
Toward the end of writing Simply Wicked I began to realize that Lord Minshom wasn't quite as bad as he would like me to believe. And when, by the end of the book, he walks away from Anthony in disgust, I was intrigued. I happened to be in the process of deciding what book to write next and Minshom began to appeal to me as the next hero. But how to make such a hard unappealing character into a man my readers could invest in? I knew it wouldn't be easy and I wasn't sure if I was up to the task of doing him justice.
Like most mothers, I spend a lot of my time driving kids around and one day in the car I heard this song.
Raoul And The Kings Of Spain by Tears For Fears
When the seventh son of the seventh son
Comes along and breaks the chain
Raoul, Raoul, Raoul and the kings of Spain
Making it plain, making it sane
To turn this loss into a gain
Raoul, Raoul, Raoul and the kings of Spain
Raoul, Raoul, Raoul and the kings of Spain
Did you know your father was an island
Did you know your mother was the sea
Can we ever hope to seek asylum
From the bounds of fate and family
When the seventh son of the seventh son
Comes along and breaks the chain
Raoul, Raoul, Raoul and the kings of Spain
Making it plain, making it sane
To turn this loss into a gain
Raoul, Raoul, Raoul and the kings of Spain
Raoul, Raoul, Raoul and the kings of Spain
Did you know all mothers come from heaven
Did you know all fathers come from hell
That is why they're at sixes and sevens
That is why their marriage isn't well (not well)

And it made me think, especially the line about 'breaks the chain' because I realized that Minshom was going to do that. He was going to stop the cycle of abuse that had started before he was even born and continued with his father and his distant deceased mother. The song also, in my mind, referenced his relationship with his own wife. And once I knew that, and knew how hard that was going to be for him, I knew him and I knew how to write the book.
Tuesday, May 4th, 2010
3 Comments »
The three winners of a signed copy of Simply Insatiable are
Chaeya
Mitzi H
Sonya
I'll be in touch ladies!
Thank you to everyone who entered and for the lovely comments. I wish I could give books to you all, I really do

Kate x
Tuesday, April 27th, 2010
39 Comments »
Today Simply #5 is out and its hero, Lord Minshom, is a man who has already stirred some controversy among my readers. Several people have written to me asking why I decided to write about him, or would want to!
When I was writing 'Simply Wicked' I realized well before the end of the book that Lord Minshom was going to let Anthony get away from him and this interested me-a lot. Once I had that thought in my head, it was easy to write Lord Minshom's book, (which continues just 4 weeks after the end of 'Wicked). And, as soon as Jane, his wife, appeared and demanded that he listen to her and come home, I knew there was a lot to discover.
It was a hard book to write because of the subject matter, but I wanted to show how Minshom's past affected him through our modern understanding all of the long lasting effects of any kind of abuse. But while showing us that, I didn't want him to change or make him a victim. And, of course, he doesn't do pyscho-babble or believe that he can do anything but simply endure and get through it.
Some reviewers haven't liked him-even at the end. For me, he came to represent some very heroic characteristics. He learned to love again, he let go of his anger and he refused to carry on the cycle of abuse-and that for me, was a very big thing.
Let me know how you liked the book
I'm giving away 3 copies today to blog commentators.
Comment below for a chance to win and tell me about villains who get their own books-love them or hate them?
I'll announce winners here next Tuesday, May 4th
p.s. and while you are here, go check out the 'coming next' page on my website for a glimpse and an excerpt of the first Tudor Vampire book "Kiss of the Rose"l
Saturday, April 17th, 2010
4 Comments »
While we're all still anticipating the launch of Kiss of the Rose book #1 in the Tudor Vampire Chronicles on August 3rd, (well, I'm anticipating it!) I'm just finishing writing book #2. The basic premise of the series is to cover one of King Henry VIII's wives in each book. So the first book involves Queen Katherine of Aragon, Henry's first wife.
The second book will feature the lady pictured above, Anne Boleyn, probably one of the best known of Henry's queens. A woman who has inspired numerous works of fiction, films and scholarly reviews. The book will also feature the same hero and heroine, Christopher Ellis and Rosalind Llewellyn, from book #1. It was fun to revisit these two and other characters from book #1.
I can't tell you a lot about book #2 yet, other than it will be called Blood of the Rose and that it will come out in February 2011. We're currently talking about the cover and back cover copy, which happens very early on in the process. I can tell you that it is good though, and that I'm very pleased with it.
Here's Showtime's "The Tudor's" version of Anne, just to compare.
Thursday, March 18th, 2010
4 Comments »
Desperate to defeat King Richard III and gain the English crown, Henry Tudor made a pact with the Druids that bound him and his heirs to the Druid's deadly struggle against the Vampires. Ever since, the Llewellyns, an ancient Vampire slaying family, have been in the permanent employ of the monarchy.
Now Henry VIII is on the throne, and his father's bargain has almost been forgotten. Until corpses drained of blood start turning up in the most inappropriate of places, including the king's bedchamber. But are these people the victims of the Vampires-or of the Druids?
To save the king from a nameless assassin, Rosalind Llewellyn, Vampire hunter extraordinaire, must form an uneasy alliance with a known Druid slayer. Sir Christopher Ellis hails from a family that has protected the Vampires for centuries, yet Rosalind has no choice but to rely on his help. And with her life threatened and her loyalty tested, Rosalind may even have to acknowledge the unthinkable. This sworn enemy may be her soul mate.